OK, who dropped off the sewing bug over here at my house?????
Not only have I been cleaning, cooking, baking, bossing big kids around and chasing after the little ones (ya know the usual mom stuff). I have been working on my sewing skills...Which let me tell you are pretty darn pathetic, and riddled with error after error, I still managed to create something today. And although it's not completely finished, still needs a button/hole, that I can not for the life of me figure out on my machine. It is otherwise put together and wearable. So I was anxious and had to show it off.
Here it is in all it's pink mistake glory!!!
I know it doesn't look terrible,I assure you the list of oops is long.
Honestly I love it so much I will probably make several more of these so the mistakes don't bother me too much. I consider it a great learning experience.
It is a bit big on little Miss S. But that won't stop me from putting it on her.
It's still so darn cute, over sized and all...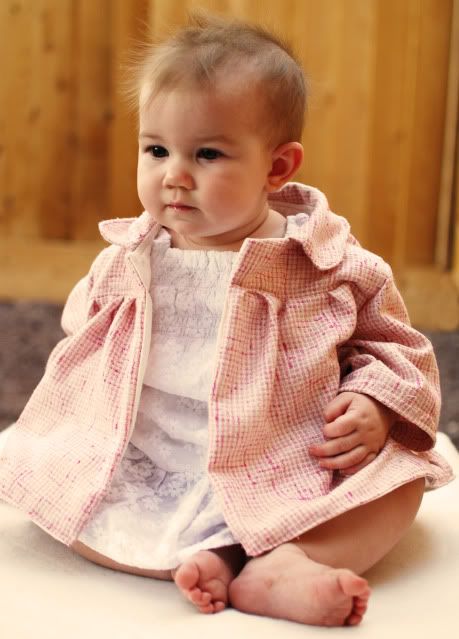 And all I can think of is how absolutely adorable it will be on her when she is up and walking around..
Just looking at these make me want to start on another one right now!!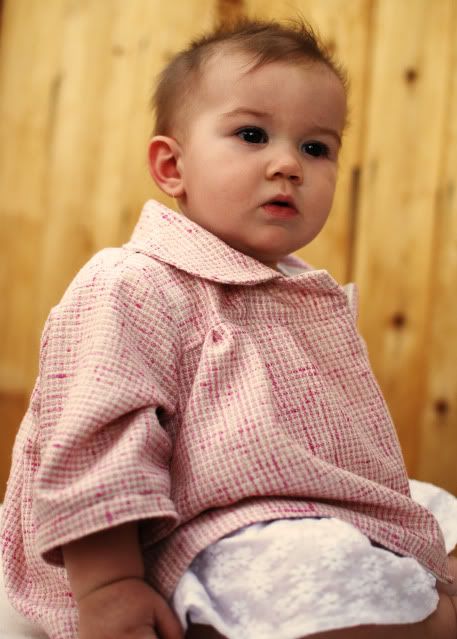 The pattern is from a Japanese book, and even though the sizing is a bit of a mystery. I find it way easier to follow then your normal "English" pattern. Which I assume makes me a visual learner, right? It does me no good to read a pattern when the words jumble my brain so bad I can't think straight ha ha.
Any who, off to work on my button hole skills and tackling another pattern or two :)
Hope you are having a beautiful day!