It's nearly 2 am,....Sophie is awake, oh and so is Shay. Which of course means I am too. I have no clue why they are awake and frankly I am exhausted from trying to get them to sleep so I give up..I mean the rest of the gang is out cold snoring away and I am about to rip my hair out. So I plopped a movie in for Shay and Sophie is on my lap as I zone out here on the web trying to keep my eyes open...I probably won't remember a darn thing that I come across so I thought I would share them here. It's just been one of those days, here's hoping it's over soon..
For the love of yarn these are adorable..
Spool vases
function and play...
Rugs
Love seats
, so sweet..
Play Shapes
So much better then your regular old blocks..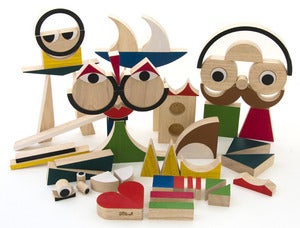 Ok, time to try this sleep thing again.....Adios for now