Well the quiet around here is certainly not from lack of activity. But then usually that is why posts become sparse right? Seems future Poker Nights and the knowledge of a possible family visit for Christmas have sparked quite a bit of warmth under our tushes to check things off of our to-do list.
There has been a bit of painting, sewing and even power tool using, work going on around here.
And yes I did finish those curtains. Here is proof and the happy color to go along with it.....Which of course only entices me to buy more accessories for the room since Scott can not figure out why I would go with blue for curtains. But then he is a beige kind of guy so it doesn't surprise me one bit.


In the name of exercise I did manage to get out of the house with the kids and climb a local hill Scott often climbs for Army PT. I wasn't sure it was smart bringing Shay along but he did surprisingly well and had a blast to boot. It was nice to get out of the house and exert energy in a different way for a bit. And since the Army uses Rucksacks as extra weight when climbing the hill I toted my own along.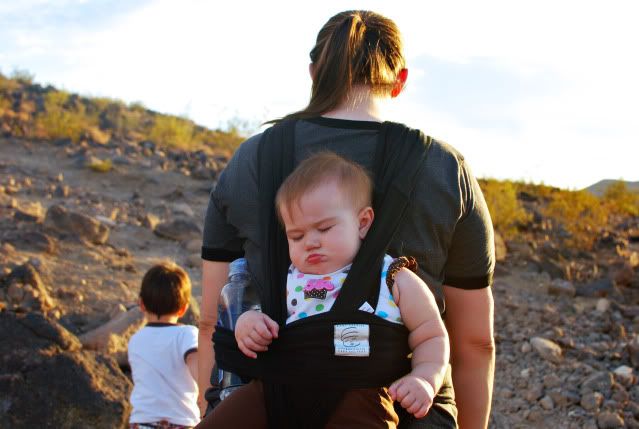 Now who can say they have climbed a hill all while taking a nap???
Stinker...
I think we may have to make this journey a weekly thing. The view of the base is quite lovely.
Oh and I have also made a few bucks selling cheesecakes to the guys and a few Crochet hats to friends.
Can never have enough cash stashed away to help with the Holidays.
They seriously are approaching way too fast.
I will be back tomorrow with another project I have been fidgeting with.
Hope you all are having a great day..