I think it's safe to say everyone loves simplicity in design. So when you can alter a simple shape and create something pretty darn cool. What's not to love? Which is why I wanted to see if this idea in my head would work and when it did, I of course had to share it immediately... This is so simple I don't even know if it's been done before but I haven't seen it and a quick scroll through Ravelry didn't produce anything so here is the pattern :)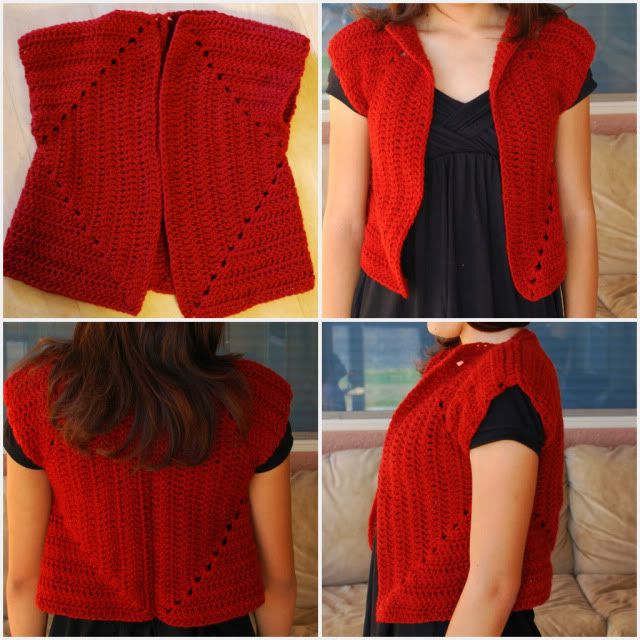 US Terms
6mm/ J hook
worsted weight yarn
used Vanna's choice
how-to / pattern
Basically you are working two Double crochet squares and with the exception of the first round you are not joining instead working back and forth creating a slit down the middle of one side of the square (these will be your armholes)
You will need to make 2 squares, for a small I worked 13 rounds, but this is easily up sized with more rounds. This used about 3skeins of Vanna's choice.
Pattern
Row 1: ch3, 3 dc in first ch. *ch 2 , 4 dc in same space. Repeat from * twice more. slip stitch into starting chain.
Then slip stitch over following dc stitch to second dc.
Row 2 : ch2 turn, dc in previous slip stitch [2dc ch2 2dc] in ch2 space, *dc in all dc's [2dc ch2 2dc] in ch2 space Repeat from * twice more. DC in last few dc's after 4th ch2 space (do not join). Ch2 turn.
Row 3 : ch2 counts as dc, *dc in next dc and across to ch2 space [2dc ch2 2dc]
repeat from* around working dc's in remaining dc's after 4th ch2 space making sure to dc in the turning ch. remember it counts as dc.
repeat row 3 for square pattern til you've reached the size wanted.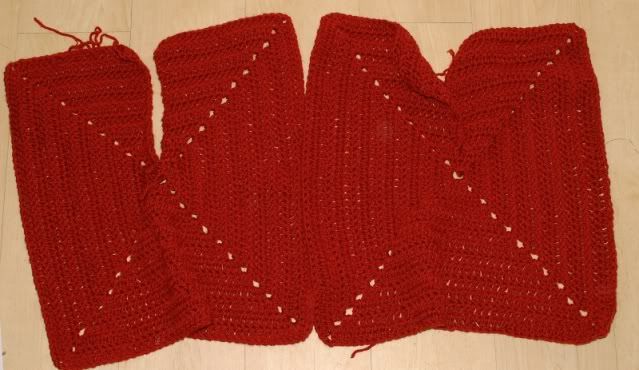 I tried to get all angles of the vest to make assembly easy but if you have any questions don't hesitate to ask.
To assemble you simply sew the two squares together down one side (creating the back), with the slit sides on the top, then fold each half over so that the slits are on opposite ends which will create the armholes once the top of each side is sewn together starting from the outside and working in. I stopped 7 stitches short of each end toward the neck.weaved in all ends, and that's it!