During my search through Creative Space participants this week I noticed a few girls (
Megan
and
Sally
) were planning on tackling a sweet little birdie pattern out of the March/April issue of
Crochet Today
. When I realized I too had that issue I decided to jump in. So during Sophie's nap today I started the little guy up. First off it took me 2 hours to make him. But I am not one who crochet's toys so that might explain the length of time. I ended up putting some filling into the body to help him keep his form. But other then that it was a pretty straight forward pattern. You just have to really keep track of your increases, I think I read and reread some rows 5/6 times but the end result is super cute....Oh and Sally you might have to change that color of yarn you are working with. I highly recommend a yarn with clear stitch definition, I would have gone mad not being able to keep track visually....
Without further ado.....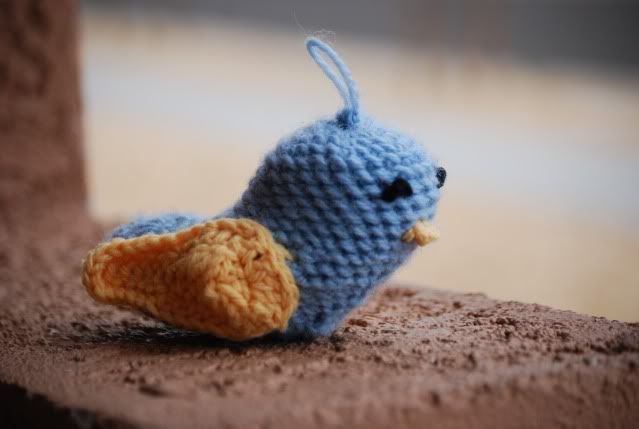 The little guy is still nameless but he enjoyed his quick trip to a small tree in front of our home.
I would leave him be a little longer but I am afraid with all the kids running around here he wouldn't last long.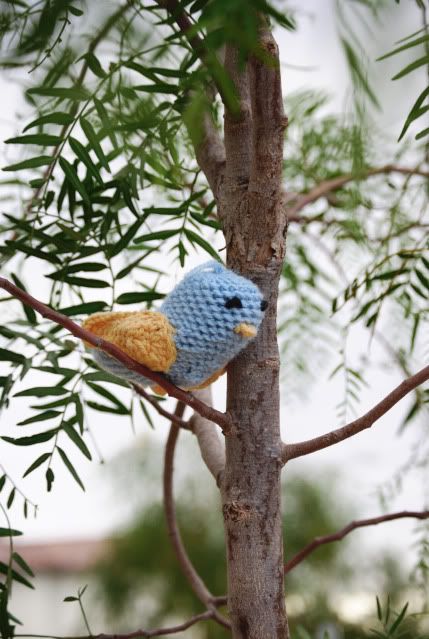 Thanks for letting me crash your little party Megan and Sally
let me know if you need any help :)