With cupboards vacant of quality snacking food and hungry kiddos in need of munchies for our weekend movie night I decided to make a bunch of "scrap" cookies. We've all been there right? Throw whatever you have available together, and bake something quick.
So toasted pecan brown sugar cookies were made...
After they cooled I plopped them down on the table, Ready and waiting for a bunch of hands to grab them up. But I saw only one set of hands.....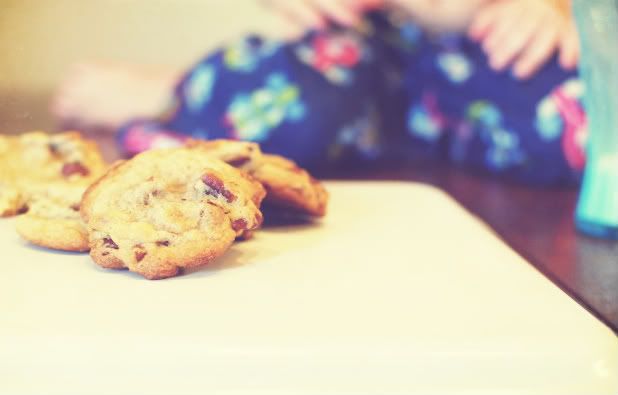 And I couldn't help but grab the camera sit back and enjoy my very own cookie monster.
After he sampled almost every cookie he laid them back down on the plate and was back doing his own thing. Leaving the half eaten leftovers for the others...If he knew the expression I am sure he would have said "to slow Joe"
Back to the cookies......If you want to make your very own cookie monster worthy treats here is the quick recipe...
1\2 cup shortening
1/2 cup butter, softened
1 1/4 cup brown sugar
1/2 tsp baking soda
1/4 tsp salt
1 egg
1 tsp vanilla
2 1/2 cups all-purpose flour
pecans "toasted" ( I used about 3/4 of a bag I had sitting around)
mix shortening and butter for 30 seconds, then add brown sugar, baking soda and salt, beat until combined. Add egg and vanilla beat til combined then add flour. Finally add toasted pecans and mix-in.
Chilled for 30
mins
to an hour then d
rop
in rounded teaspoons on cookie sheet then bake at 375 for 8-10 minutes, until edges are firm and slightly golden.
Leave on table and wait for your very own cookie monster to arrive, just make sure to stash a few aw
ay

for yourself
:)