Since I can't really contribute with the moving help. I figure I'll put my hands to good use and make stuff!!! Cute girly stuff of course...
A cute little pink bib made today, only problem is...Now I have an excuse to go shopping for buttons. Why do you always need one little thing to finish off a craft project???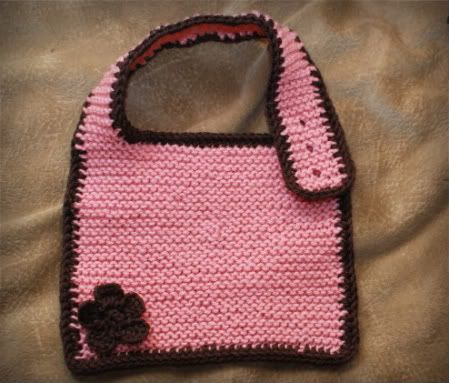 As far as the pattern, you can't getting any more simple then this...Knit a square using whatever stitch you want (
I cast on 33 on size 7 needles garter stitched, binded off til 7 remained
) bind off till you have the width of the strap that you prefer and then continue to knit til it's long enough to create a few button holes, (
knitted 3 st's yo k2tog then knit remaining 2 st.'s added a few rows then repeated for button holes
) add them and bind off :)...Obviously I added a crochet trim and flower but the possibilities are endless.. Gotta love simplicity!