Yay it's time for me to check out all the creative spaces over at
Kirsty's
come play along or just be nosey and check them all out :)
This is my last week of "must crochet" hats...So guess what I am doing?? Going hat crazy. My goal is to have 40 items to send to her and I am more then halfway there woot woot!!!
So here is my end of the dining table...Of course a tad more organized then usual for the picture. I am loving the black and white flower hats the only thing is the buttons I have used for my pink hats and these (and the few in the bottom corner) are from New York and well I can't just pop over there and get more...I think I need to make a friend in NYC to do some shopping for me. Cause no matter how hard or long I look I can't find them anywhere..grrrr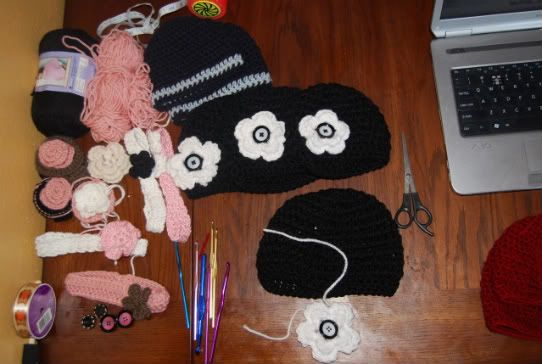 Oh and look at this...I even took a few minutes to clean up my small fabric stash :) I am hoping to do a little sewing next week to give my fingers a break from crochet.