Someone actually came to visit me and the kids, way out here in the middle of nowhere Louisiana...Yep it's a miracle..Or maybe my mom was just super motivated to get rid of an extra car payment and had to bring me my old car back lol...
Anyways...I am just gonna say she missed me so much she had to drive all the way from San Diego to spend a few days with me :P well her and my brother.
Oh and my whole "eating healthy" kick, out the window that's for sure. Today we baked liked crazy people...German pancakes, sugar cookies, chocolate suckers and toffee as of yet...I have had my fair share of sweets this weekends...UGH...
Have you heard of German pancakes???? They are huge!!!! but very good...
You can find the recipe we used here...
German Pancake Recipe
And here is a pic of the finished product from this morning..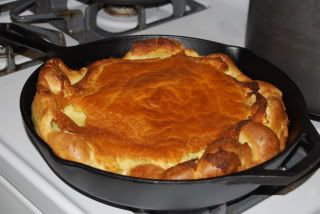 The kids making cookies....
Think we have enough???