I know to most people living on a military base is pretty foreign. And without fail every time we are getting ready to move to a new one I find myself searching the Internet for as many photos that I can of our soon to be new home.
I have even gotten frustrated with several blogs that live on said base and don't post pictures of their surroundings. And then I realized the other day that I was pretty much one of those bloggers too.
So if your just curious to know what it would be like to live here at Fort Irwin or if you are a soon to be PCS'er and are looking for hints to your new home I thought I would take pics of our day to help you out.
We started out with a walk to Starbucks, now that pumpkin spice is in season it's a must have in my book...
During the lunch hour rush we headed to the
PX
so that I could buy yet another set of headphones for the Ipod since the A's keep taking off with my other ones. And Shay decided to prop himself up high so he could shoot down the Soldiers as they drove to get their grub on.
Of course every mom knows to have a few quarters handy when you step outside the store...
As we headed back we strolled past the Helicopter pad and waited a bit to see if we could catch one take off.
Near the barracks you can find many retired Army vehicles on display. Great for little boys to climb all over.
And of course one thing there is never a shortage of on a military post are parks.
Shay made sure we didn't pass up the neighborhood park before we headed back in the house.
There are of course a few big kid things to do like movies, bowling alley, basketball courts, pools and even a skate park. Which has prompted the A's to add new sskateboards to their Christmas list with a warning, " not the cheap ones you buy at Wal-Mart" Thanks for the clarification stinkers.
Granted we are about 30 miles away from the nearest city, but this post has much to offer and outside of the obvious desert heat that strikes during the summer, the weather is pretty nice as is the view..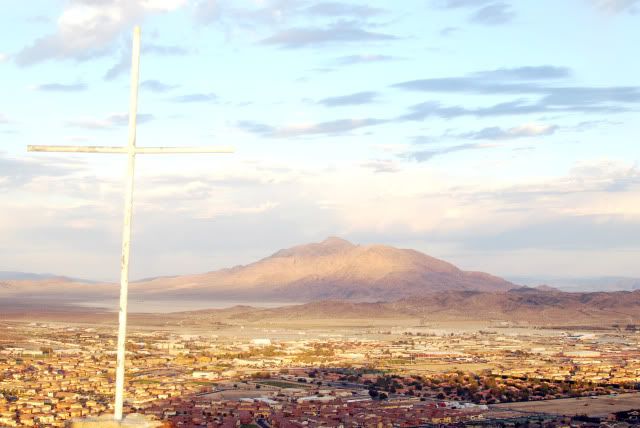 Each and ever Army post is what you make it. And I hope I helped inform you what this one is like on an average ordinary day.