Yay it's time for
Kirsty's Creative Space
again, Come play along!!
I have never actually shown my "creative space" otherwise known as the oversized storage closet haha...It is messy and cramped but atleast I have a place to stash my stuff. Oh and don't mind the bookcase, Shay is forever pulling them out after I put them in nice and orderly so I gave up awhile ago :P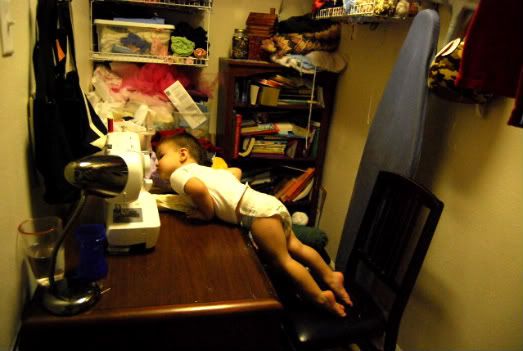 And this is what I have been working on over the last few days...Since I made a girly version I decided to try out a more boyish idea...Apparently the little man thinks it's a game to let mom chase him around to try and get pictures..That is until I bring out the bribes, which is the thing he is grabbing for in the first pic..it's a licorice stick....:) Oh and if anyone can point me towards tips and tricks to lining a hood please do so...I lined this one pretty pathetically but it works...